YES! I WENT :)
I actually was really excited to watch SM Town, I used to think this is a must-watch for a KPOP fanatic like me. But when the ticket information was out, I was a little disappointed that the ticket was so much expensive than I thought, despite the very last seat last row for the concert. Just in a week time, Stacey give me one of the biggest news ever! She won tickets to SM Town, and willingly to give it to me. THANK YOU STACEY!!!!
I guessed it wasn't very difficult to guess I was once a ELF (fan of Super Junior!). I used to be a lonely fan, because none of my friends was into KPOP. I watched and find every single clip to watch in the past. Youtube was and is still my best friend ever! I remembered I watched FULL HOUSE with lots of laughter because of Heechul, Kangin, Donghae, Eunhyuk, Hangeng and many more…. very funny very entertaining! That was when… I started to like them even more. So, I was pretty excited to join the rest to spread the Blue Love on that day.
I really thought, my liken for them have faded. I didn't watch SS4, due to my February trip, and I thought I was really happy with watching them in SS3 after 5 years of 'waiting' haha. Then, just when I watched SM Town….. Oh man, I think I will still go for SS5 if that happened :P
Some people complain that why SM town have such coverage more than the rest of the kpop concert in Singapore. To be honest, SM TOWN is a big concert by one of the biggest agency in Korea. It wasn't even over-doing it because they deserved a big coverage. They have one of the biggest boy band – Super Junior, one of the biggest girl band – Girl Generation… and definitely, not forgetting the beloved girl idol 10 years back – BoA, and one of the 'hottest' boyband – H.O.T's Kangta and DBSK! And the young and upcoming idol groups – Shinee f(x) & EXO as well. — Do you think RITS really overdo it? I think they could have done even more haha!
If, any other agency is here for their company concert, I think the coverage will be big too. But mind me, this is the FIRST BIGGEST KPOP CONCERT ever. And, RITS have been doing a good job for SUJU SS3 SS4, Girl Generation, Shinee Tour as well! Though, SM Town can be really much better due to the spoil screen? and the Stage is really way further than anyone can imagine haha. But, I think for such event, is a not bad job afterall! hehe!!! :)
Personally, I think I LOVE THE RAIN FALL actually. I thought, it actually make this concert quite special :) hehe. It's my very first outdoor concert with rain fall too, its exciting to watch though… :/ but poor f(x) and shinee had to in the rain while performing :( Overall, I quite like DBSK and SUJU (of cos) performance the most. hur hur. Victoria, Yuri  is sooo pretty that I wanted to rebond my hair because of that…. :P
Now, I'm actually a little looking forward to SS5, I hope the ticket can be cheaper, haha :P
(Side Track) how i wish this SM Town have Shinhwa, Fly to the Sky and H.O.T too. Can you imagine…? OMG! hur hur :D
the group that got me into KPOP is Super Junior.
(though the group that i was listening to first is Shinhwa!)
By accidentally, i watched Attack the Pin Up Boys.
Without knowing who acted in the movie, which I don't usually do.
I went on to search on the actors after finished the drama.
And, in fact, I was pretty shocked that 12 (kyuhyun is a 'new' member!) acted~
Both Kangin and Heechul acted very funny role in the movie, which led me to only laughter!
Soon, I found myself watching their clips, mvs, and stuff.
And, their variety show – Full House that made me laugh out loud.
They are just simply funny, I thought they really made people enjoy so much and forget worries!
They have been active for at least 5 years, and alot of things changed.
They used to be a group of 13 members, it only completed with 13 members.
First, Kibum 'left' and pursue his acting career yet remind his status as a member of SJ.
Next, Hangeng faced some contract problem, and now he is a solo singer in China.
Next, Kangin faced alot of problem, and attend the army earlier, which he probably served 1year.
I never thought that I should include Henry and Zhoumi, they are only SUJU-M that's all.
Now, it's Heechul's turn. He will be serving his 2 years from September onward.
I'm sure in no time, we will be welcoming him out and probably seeing Super Senior instead :)
ELFs probably have to get well-prepared as SJ's ages are rather near apart, and they will be in soon.
I'm glad I choose to go for SJ Super Show 3 Singapore.
It was a fun and exciting concert that I ever attend before.
Though as much as I wish to see all 13, I think is could be the last time see-ing 10 already!
My instinct told me that Leeteuk and Heechul will be going army early next year.
(I thought Leeteuk earlier, and didn't expect heechul's to be this early!)
Following are some of the photos I taken early this year during SSS3.
The funniest, 4D, crazy Heechul. See you in 2 years time. 2013 September! :)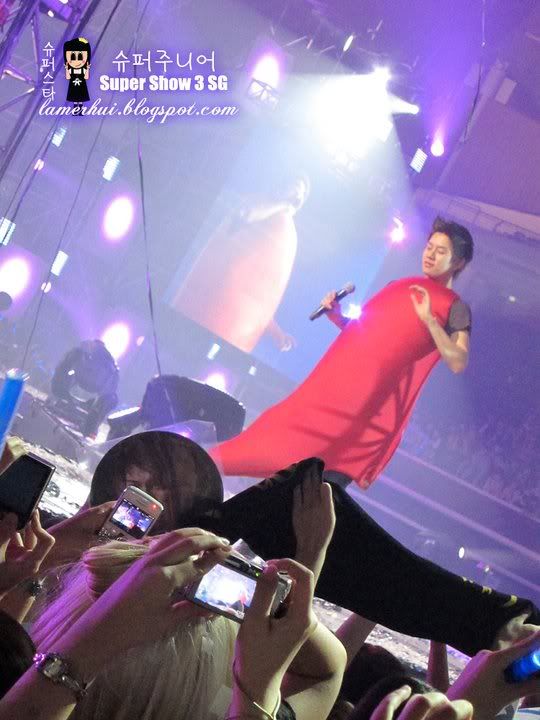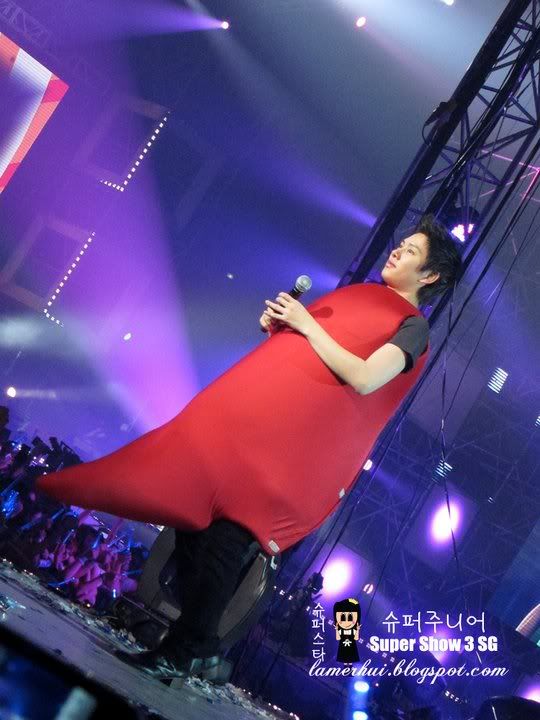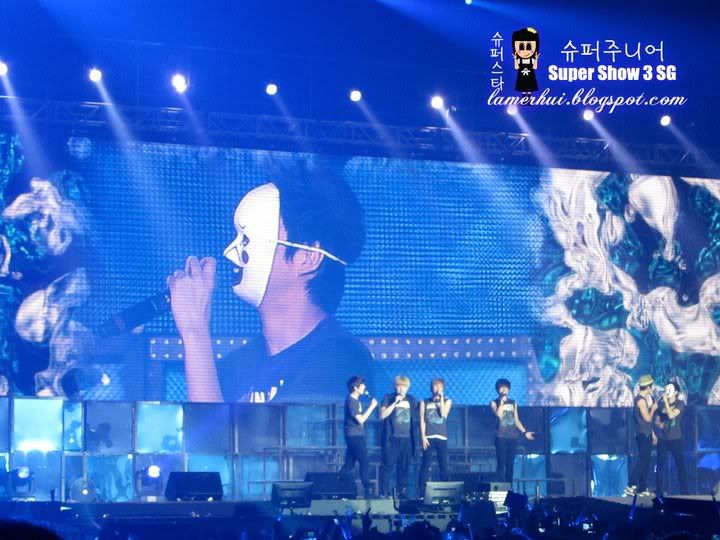 Heechul's SOLO stage – Spirit.
I love this song, I think he sing quite well, many might not even know he can sing…!
Goodbye Heechul. Goodbye Lady Hee Hee. Goodbye!
See you in September 2013. Take care! :)
// i'm a loyal fan of SS501. i'm a loyal fan of SS501. i'm a loyal fan of SS501. i'm a loyal fan of SS501. 
It's been really long, I talked about my Korea trip right? Have to you read my day1, go read it if you haven! :D Anyway, here's 4 photos teaser just before my day2. I have been typing and typing for my day2. it's going to be a dry and boring entry i believe, as i shared a lot of my personal experience, and some tips for music shows as well. so just before some dry boring entry that you might be reading soon, i'm here to bring you some funny and cute photo i took with joanne during our trip!
p.s. quality might not be good, cos i took it from my iphone :)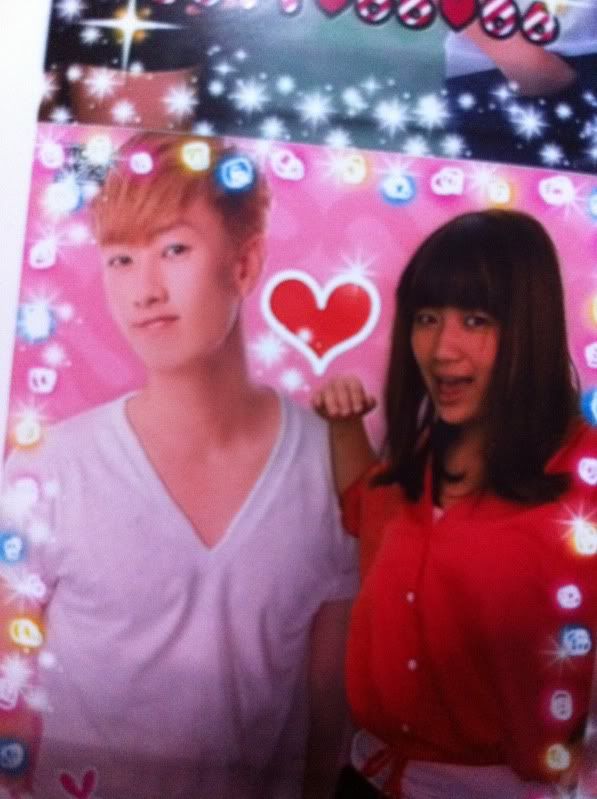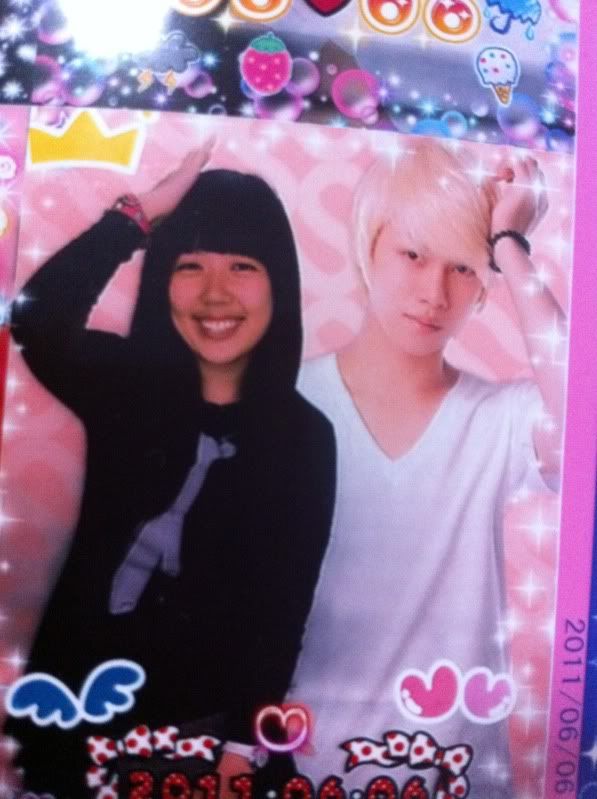 // if only they have for SS501. it's going to be DAEBAK!!! :)