Summer Aussie: Domestic Flight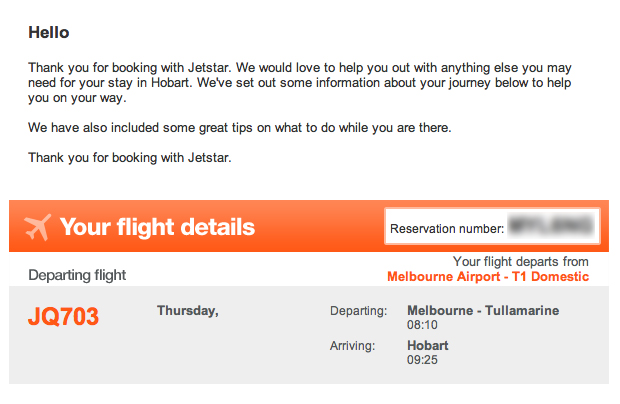 It's my very first time taking Jetstar, seriously, except the fact that I'm going Hobart, if not I don't even make this one of my choices. lol. I just doesn't like budget airline ever since I took Silkair, it was a very bad experience. So, if I can, I always make the point to take a better flight. Hope this can make my thinking changed.
The fact is Budget airline wasn't budget after all, I didn't expect that we will have to pay AUD5 to select our seat yawn~ This is so not going to be real. So, we decided to go airport earlier instead of paying 10AUD to-and-from melbourne. lol. AND the funniest part is, if we paid the online tickets by credit card/debit card, a GOOD 17AUD/per to be paid as additional charge…! OMG this is just so freaking cheater for a budget airline right? I just can't believe there is so much hidden cost for budget airline. 
Look like, I'm so pamper with the good service SQ always given to me. I LOVE SQ! 🙂 
Well, aside from the fact which flight I'm taking… YES! I finally get my domestic ticket! Technically, not exactly, because I have yet paid Yodo for the ticket haha! She is the boss now! 🙂 I have almost finished planning for TAZ, and it look pretty pack due to the traveling hours. Oh god! Why are all the locations so far away from each other? And according to my research, I will be staying 3 places this trip! Looking at my itinerary, it spelled – FUN & EXCITING! 🙂
TAZ, here we come! :)))
---
---