Missing Australia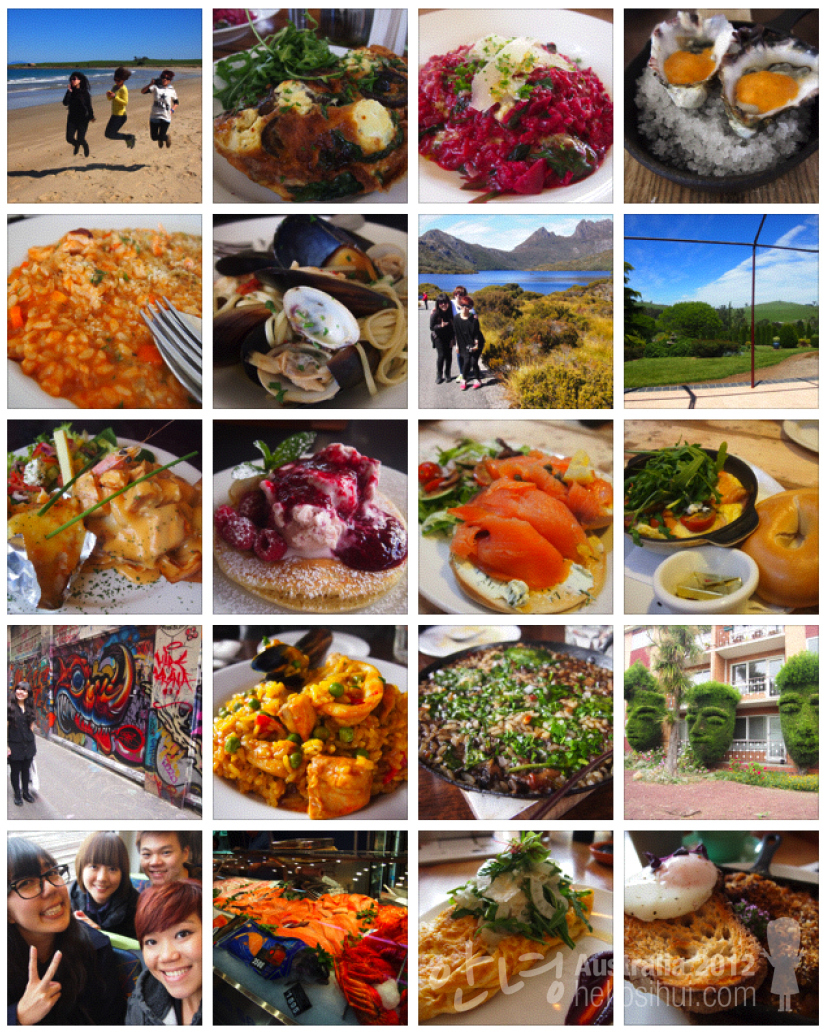 (Row 1 L to R)
Photo1: Reached Swansea after 2.5hours of rides… (more detail later)…
Photo2: On our way to Launceston, reached a small town call Perth and have our breakfast there 🙂
Photo3: My very first time eating Beetroot. I feel so healthy 🙂
Photo4: Oyster, have been part of us the entire Australia trip!
(Row 2 L to R)
Photo1: Very yummy dinner in TAZ ever! (more detail later…)
Photo2: I LOVE PASTA really!
Photo3: 2.5hours ride to here, a very beautiful scenery over Cradle Mountain – ALL WORTH 🙂
Photo4: Back to the hotel, drop by this place when on our way to Cradle Mountain… PRETTY!
(Row 3 L to R)
Photo1: The very pretty cafe have pretty food, this is so good!
Photo2: And, Raspberry farm is not to be miss and they spelled HAPPINESS!
Photo3: Back to Melbourne, Salmon is heaven!
Photo4: Salmon + Egg is quite a heavenly food there!
(Row 4 L to R)
Photo1: Me with a graffiti wall
Photo2: Yodo brought us to a very nice turkish food place and is yummy!
Photo3: Not much of a rice person – but this is pretty delicious too!
Photo4: We saw Gary! 3 Gary! :p
(Row 5 L to R)
Photo1: With Yodo's friend – John and he is pretty funny and cute too!
Photo2: I want to bring all this home really!
Photo3: Egg is part of us during this Australia trip!
Photo4: So does Bread hahaha :p
I'm missing Australia so much that I can't believe it. I still love Seoul, Korea… then anything else. But Australia being the first 'english' country I visited, a place that I travel with my bffs, lots of fun and happy and definitely heart to heart talks too. Though many say its seems like I been to a long trip, but its a 'rush trip' and of cos, it's never enough when we are traveling with friends. Or should I say it.. HOLIDAYS WITH FRIEND, AWAY FROM WORK… is never enough! haha 🙂 Australia is a place for seafood lover…! You know, how much I love Salmon, Fish, and anything in between… And, I think I had Salmon everyday! So so so blessed and it's filled with happiness. My happiness is so easily contented with just salmon… LOL! But you should know where I'm getting from… 🙂
I have posted the photo above on my instagram as well as twitter, but I thought, I should left a footprint here too! I love my camera, I think I see a great difference from the quality from my S90. S90 is good, just that Pen3 seems even better, definitely, it's like almost a DSLR price.. IT SHOULD BE GOOD! haha 🙂
Meanwhile, I shall continue my entries… IT IS TAKING WAY TOO LONG ;/
---
---