I shouldn't spend money on KPOP so much (anymore?!)
KHJ is heading to Singapore, his very first stop for this FM Tour.
He is just so coming in less than a week! 🙂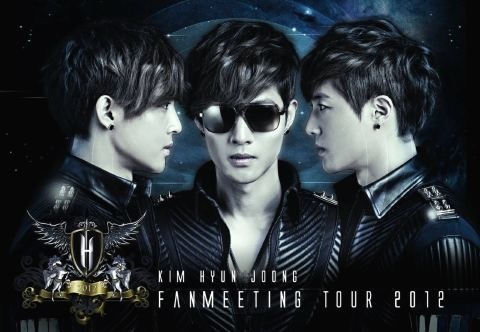 #he is looking so good that I think………….. he is drawing my attention once again 🙂
(photo credit: @violet606)
Kim Hyun Joong's Message for Singapore Fans!
[youtube=http://youtu.be/fxVBuGagVK8]
I think it is pretty excited for Henecia and TripleS in Singapore, because KHJ will be in town in less than 5 days time. As much as this might be only a Fan Meet, but RITS make this even more exciting for everyone! It gonna be a mini concert, which he/agency/RITS promised to sing at least 10 songs! Singapore fans whom never travel out before, had even even hear him sing more than 2 songs! This is gonna be really exciting for every single one who will be seating within the same compound as him!
What's more, this Fan Meet include Hi-5 as well, yes every single one in the stadium. This does make the fans excited and at the same time worried for HJ. Sound logic that YOU definitely wish to have a closer interaction with him, and what's more worried about 'is he going to be tired after giving out more than 3000 hi-5?'
But the thing is that, how long is this showcase gonna be when he will probably sing a good 10 songs, fan-interaction period, and not forgetting everyone's hi-5?
But, I guessed this excitement is no longer important, because, what you are waiting for, is approaching in less than 5 days! 🙂
[Update: HJ will be singing 'Because I'm Stupid' during the Singapore FM / Credit:@wangziqi)
Follow @sgRITS and @lovekhj for more infor.
My thoughts on myself attending non-stop of KPOP Event.
Just to share, I did not buy KHJ's ticket for this FM. Many friends are surprised. Not because I didn't like him anymore, in fact, I still like him just like how much I like him previously. You will still able to see him every little corner in my room. In fact, I placed U:ZOOSIN's calendar in the office. He is everywhere. Sometimes, I do think, does all these stuff in my room affect my design inspiration :/

The reason I did not buy because, I have really mixture of feeling. I was really thinking if I should spend $168 on his FM, or should I used it at much more appropriate area? (for work for personal usage) And, I thought, there isn't much regretful about not attending my favourite idol's fan meet. I keep telling myself, I am really lucky enough to watch his Showcase in Seoul last year (shall blog about it soon) and 3 of his comeback stage for Break Down. Hence, I was in the midst of thinking and persuading myself not to over-spend money on Idols especially, they doesn't even know my presence.

And, there's so much contests around, which I eventually joined. Not only that, I also asked my friends who bought the tickets/ or totally not interested in KHJ to join on my behalf :/ So, if I managed to go for it (because of the winning ticket!) I must really thank all my angels/fairies that helped me along! 🙂 Well, even I didn't win, I will not regret that I did not get the ticket at all. It's just a showcase after all, i told myself that repeatedly. And, I generally able to see fan cam or even report on the event. 

I hoped, sincerely hope that, I will eventually attending lesser activities/events. Because I realize how much time and money I have spent on all these KPOP events. Though, I must say, it's not easy for me, as someone who really enjoyed KPOP so much, and at this point of time, money wasn't a very big issue, since I'm no longer a student. Last year, I set my goals of having attending ONLY 2 concerts for myself every year. Though 2 might sound alot to you, it is a big differences to what I previously went. I thought, the most difficult part is to start from my favourite idol. It is not difficult at all, not attending someone you think he is just simply talented or like as a good singer. But, start from your favourite idol is a good start, which I think so, really. 

How long this will last? I have no idea, I might back to the craze once again after 1 month. lol. I think partly because I was really busy at work, tired from the 'less-than-5-hours" of sleeps, I have a little lost touch to all these updates. Some friends thought I went missing from Twitter. Aiya, too busy sometimes…

then again, who knows, i might grab the ticket last minute? things are usually easier to say then done. well… we shall see…. 🙂
---
---